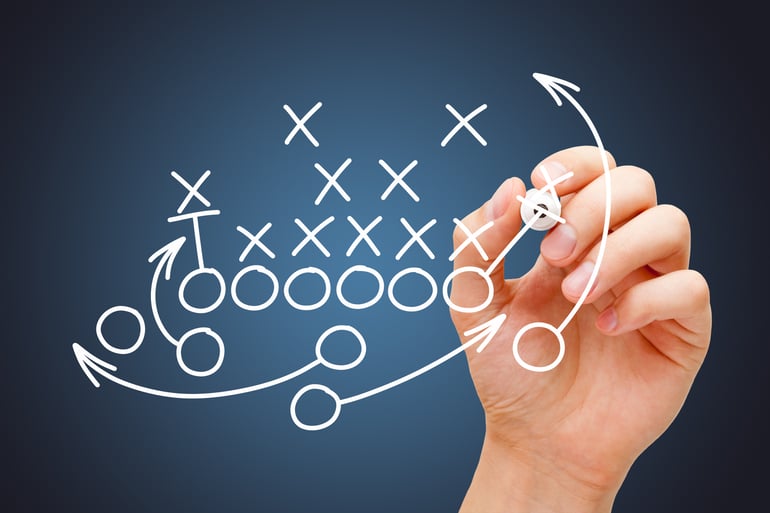 By now, it should be clear that there are countless reasons to start incorporating more and more inbound marketing into your company's current marketing structure. But there's a huge difference between knowing you should start making the switch, and knowing what tactics will benefit your business best. Luckily, we've compiled the top 5 most common inbound marketing tactics to use–regardless of your niche–and the best tools to use depending on where your buyer is on their buying journey. This crucial information can assist you in crafting the most effective inbound marketing campaign, helping your brand reach more customers and convert them into life-long supporters!
The 5 Most Common and Highly Effective Inbound Marketing Implementation Tactics

When confronted with the task of crafting a new marketing plan to better engage with customers, many businesses find themselves asking exactly what inbound marketing tactics are most effective. Determining what's best suited to your specific brand or business all depends upon your industry, your target market, and what you want to achieve from marketing–however, the following five inbound marketing tactics are both highly effective and commonly used by companies throughout various industries!
Content Marketing: Blogging is the tried-and-true, classic example of an effective inbound marketing tactic. By establishing your business as a leader in your specific field, easier lead generation naturally follows. Focus on crafting content that proves your brand superior to competitors, highlights your distinct advantages, and matches current market trends while still providing unique angles.
Social Media: Sharing valuable and relevant content on social media is a powerful inbound marketing tactic that helps build better connections with potential clients. Actively share, post, and comment in order to hook attention, build brand awareness, and convert followers into customers. Mix two tactics into one by sharing your blog posts on social media!
Email: Sure, a blog publishing articles on content relevant to your audience and active social media engaging directly with customers are highly effective inbound marketing tactics. But email marketing is also a crucial part of most inbound marketing campaigns. By encouraging customers and clients to sign up for your email list—which you can prompt by offering a mutually beneficial incentive, such as one free downloadable content for registering—your business can continue to funnel attractive and engaging content to that market. You can also gain additional exposure for your content by encouraging users to subscribe to a blog newsletter.
Video: People are consuming video at an ever-increasing rate. By regularly posting content on viewing platforms like YouTube that is credible, relevant, and high-quality, you'll reach a broader audience and rack up viewers, which can quickly convert into clients.
SEO: SEO is an inbound marketing tactic that puts the power in your words. Optimizing content with keywords and content that is relevant to your target market's searches, and provides high-quality information, can prove truly effective. Other factors, such as website-security and website design, can also play a part in SEO performance.
The most common and effective tools based on the flywheel buyer's stage


Just like the traditional sales funnel marketing model, the most effective marketing tools within each tactic vary depending upon each customer's stage of the buying journey. The three key stages of the flywheel model are attracting, engaging, and delighting. All inbound marketing content should speak to what part of the journey each customer is currently at, and also seamlessly guide customers to the next stage with as little friction as possible.
The Attracting Stage: The attracting

stage should provide material that draws customer attention and piques interest, as well as speaks directly to their exact needs or questions. Tools such as digital advertising, blog articles, email marketing, videos, SEO, social media, and content offers/premium resources can persuade consumers to want to know more about your company.

The Engaging Stage: The engaging

stage should continue to showcase all the right reasons why customers should select your business. During this stage of the flywheel model, focus on lead flows, email nurturing, lead management, and marketing automation and workflows can convert interest into genuine leads.

The Delighting Stage: Finally, during the delighting

stage, continue to offer relevant information showcasing the advantages of your brand. Chatbots, surveys, social media listening, marketing automation, follow-ups, smart content, and reputation management can all help continue effective interaction with valued customers.
Conclusion
Get started on implementing any of these 5 super-effective inbound marketing tactics to your business's marketing plans, immediately. Each technique can offer genuine benefits to your brand and actively assist in gaining customers and growing sales. Plus, by knowing which inbound marketing tactics are best to use at each stage of the flywheel buying stages, keeping customers attracted, engaged, and delighted can be effortlessly achieved!
After you've decided what inbound marketing tactics and tools to use for your business, keep reading to discover more about the different types of inbound marketing metrics–and which ones are most relevant to you and your industry!
---
Get our Inbound Marketing Cheat Sheet and learn how to get your inbound marketing program started.