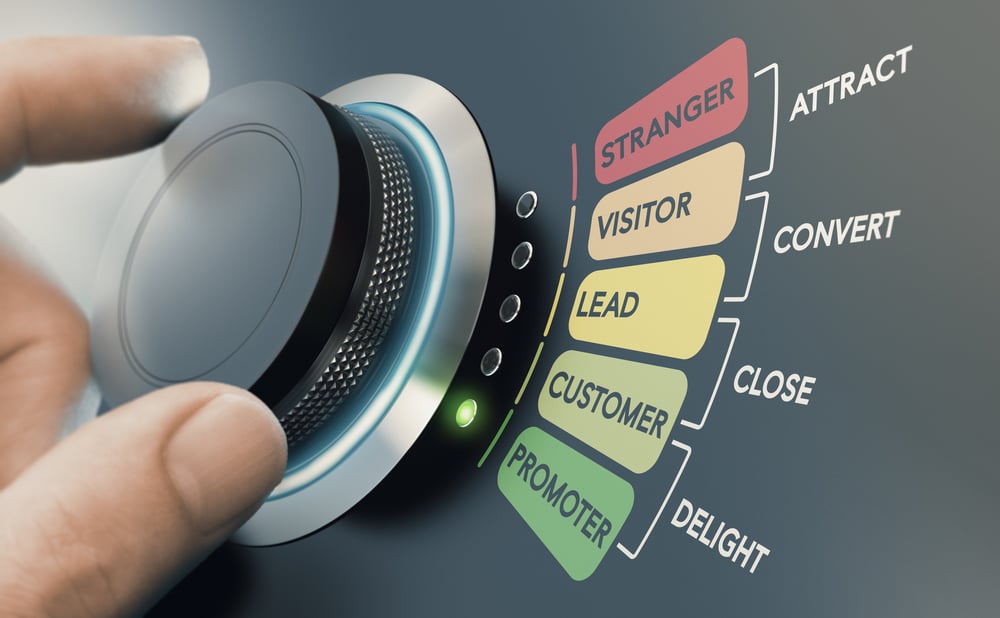 In traditional marketing, the focus has always been on the product. However with inbound marketing, the attention is placed on the consumer. As a marketing approach, inbound marketing is based on the close relationship between your company and its prospects or customers, who have voluntarily expressed their interest in your company's products or services. This is normally done by delivering high quality content marketing through emails, blog articles, social networks, etc.
What is inbound marketing?
Many businesses confuse Inbound marketing with a marketing tactic. However, it is a marketing approach that requires a very careful audience targeting and hyper-targeted communication with it via high quality content.
Marketing-Schools.org define inbound marketing as "the strategy of connecting with potential customers through materials and experiences they find useful. Using media like blogs and social networking, marketers hope to entertain and inform viewers with content they seek by themselves."
Hubspot adds to this definition a few tactics that are normally used in inbound marketing:
Content Creation and Distribution: this includes the creation of targeted content that answers prospects' and customers' basic questions and needs, then share that content through various platforms for exposure.

Lifecycle Marketing: One of the goals of inbound marketing is to transform strangers into promoters. Specific marketing actions and tools help to start and complete this lifecycle.

Personalization: Your content should be creating with the wants and needs of your prospects in mind. As you learn more about your prospects, you can better personalize your messages to what they're looking for.

Multi-channel: Inbound marketing is not only about blogging. It is a multi-channel effort because it approaches people where they are, in the channel where they want to interact with you. So, a good inbound marketing strategy would include things such as social media, email marketing, blogging, SEO and more.
Inbound marketing is all about creating an environment for an open communication with that buyer persona that came naturally and voluntarily to you. The final goal of such conversations is to get their attention to your products or services and to create a personal relationship with them.
Why inbound marketing is so important for your business?
Whether you're a start up, a small, medium or large business, Inbound marketing can be key in the ongoing growth of your company. Here are some reason why inbound marketing should be part of your marketing plan:
You can keep improving and modifying your inbound marketing strategy:

Unlike outbound marketing or traditional marketing that are based on short-term campaigns, inbound marketing is a strategy that is sustainable for the long-term. This means that inbound marketing is built gradually through planning, implementation and distribution, which can take time, but will give positive results for the future of your business.
Lead Generation: With inbound marketing you can also make sure that the website traffic you get produces quality marketing leads that your sales team can convert into qualified sales leads. The reason it works is because inbound marketing

focuses on creating relevant and personalized content which is helpful in targeting audiences who match your ideal customer profile.

Lead Nurturing: As users find you, it is key to nurture those leads until they become marketing qualified leads (MQLs) or sales qualified leads (SQLs). The content and distribution channels you use to nurture them can help influence their buying decision.
Scalability and Affordability: Inbound marketing doesn't have to mean a big expense for your business and a giant marketing effort. If you're willing to do some of the work yourself or have your internal team collaborate, you can start with a blog strategy for which you wouldn't have to spend to much. If you need a CRM

as your business grows to maintain your contacts or create workflows, you can add a platform such as HubSpot. You can nurture leads inexpensively with email marketing and gain additional exposure through social media without any financial investment.

Business Visibility: Inbound marketing is based on organic SEO principles. This means that using SEO techniques to optimize your content can have a great impact on your Google ranking. This can make your website and product more visible to your audience.
Trust and Credibility: If your inbound marketing is centered around the needs and problems of your prospects and customers, your reputation will improve and your audience will recognize you as a credible source of information. This creates trust with your brand, products and services, which, in turn, will help to attract new customers and retain existing ones.
Conclusion
According to Bigshot Inbound, "thanks to the Internet, consumer behavior has changed drastically over the past decade. People have become adept at tuning out traditional marketing messages. Research shows that 86% of people skip television ads, and 44% of direct mail is never opened. In addition, 84% of 25-to-34-year-olds have left a favorite website because of intrusive or irrelevant advertising." In addition to this, the democratization of the internet have made it possible for individuals to express their own free choice for every product and service they want to buy.
---
Get our Inbound Marketing Cheat Sheet and learn how to get your inbound marketing program started.