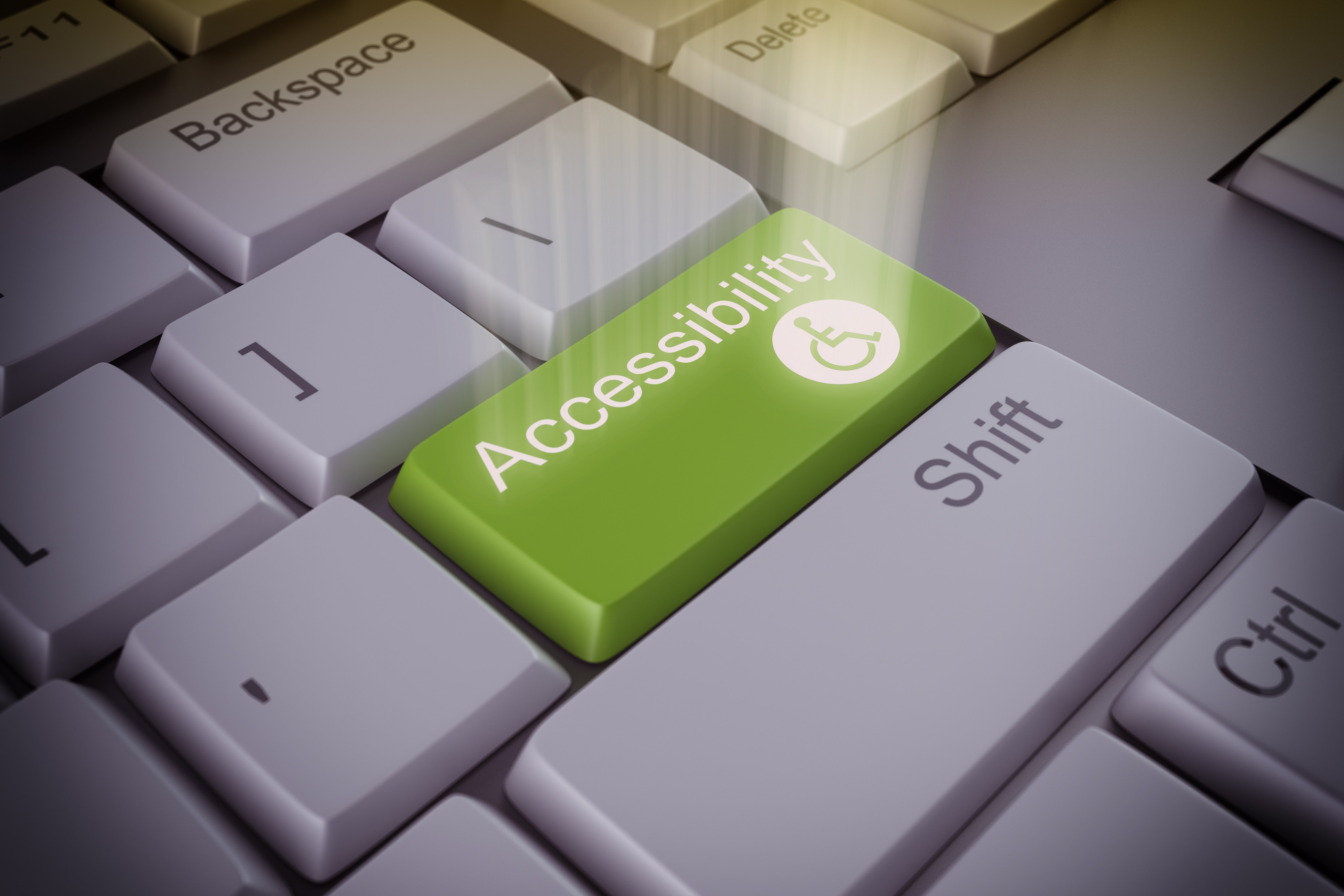 The internet plays a bit role in everyone's life. We rely on it to pretty much run our lives, from finding answers to everyday questions to turning on the lights to shopping to staying in touch with friend and family to finding a new job and more. As a result, making websites accessible to all has become a necessity, not just because of legal issues, but because of business growth reasons.
When we talk about website accessibility we are referring to how easy can a website or mobile application be understood and navigated by a wide range of individuals, especially those with visual, auditory, motor, and/or cognitive disabilities. As the world keeps spinning, we are moving toward an online environment in which accessibility will be as important a consideration when building a website as mobile responsiveness and SEO are now.
In a nutshell, by making your website accessible, you're not only avoiding the possibility of a litigation, but you will also be taking full advantage of your products and services by reaching a wider range of user that can fully engage with your organization.
---
<<Find out if your website is ADA compliant. Get a free report of your home page and avoid a lawsuit!>>
---
Are ADA Website Compliance lawsuits real?
Originally, Title III of the Americans with Disabilities Act was meant for providing better physical accommodations for people with disability's. This came in the form of marked accessible parking spaces, wheelchair ramps, counters of a certain height, accessible bathrooms, etc. However, in recent years, and due to the increase in website lawsuits, courts have been including digital assets such as websites and mobile applications in addition to physical ones.
As a result, this has greatly expanded the legal exposure of businesses across the country. Every year since 2016 the number of lawsuits has been exploding exponentially. For example, in 2019 we are seeing lawsuits being files at a rate of 1/hour, which is a significant jump from what was seen in 2016, which only saw 262 lawsuits for the full year.
Someone told me this only applies to government agencies
Up to this point, only government entities and organizations doing business with the government were the only ones that had to have their websites accessible to all at the AAA level (we'll talk more about this later)... Think of city, college and universities websites. However, since lawsuits that affect regular businesses have increased since 2016, the verdict given by many court circuits has been in favor of the plaintiffs.
We have noticed that the industries that have been the biggest focus of accessibility litigation include the retail, food service, hospitality, financial, and entertainment industries; and the states that have the biggest number of current litigations are California with 22% of all cases, New York with 21%, Florida with 12% and then New Jersey and Texas with 4% of all cases.
Initially, these lawsuits were going for the big fish such as Domino's, Walmart, Target, Beyoncé and even Playboy. Right now, lawyers are going for the small and medium businesses as an easier target. Smaller restaurant brands in Southern California such as Miguel's and Jimmy's Famous American Tavern have been served and settlement and remediation has cost them dearly.
That is why we strongly encourage a proactive approach to accessibility compliance. Right now it is a matter of "when" not "if," and taking the initiative to make your website accessible to all will cost you way less money than doing so reactively in response to a lawsuit. What does this mean? It means that starting the process of updating your site to meet WCAG 2.1 guidelines should be priority for your business and implementing a plan to ensure your site stays in compliance should be on top of your list.
Web Content Accessibility Guidelines (WCAG) Explained
As we stated in our Path to Website Accessibility post, courts are relying on WCAG 2.0 rules when it comes to website accessibility and whether it violates Title III, more specifically on WCAG 2.0, AA Conformance. WCAG 2.0 outlines four principles for website accessible design:
Perceivable: users must be able to perceive the information being presented
Operable: users must be able to operate the interface
Understandable: users must be able to understand the information as well as the operation of the user interface
Robust: users must be able to access the content as technologies advance
There are several levels of conformance within WCAG 2.0:
Level A (WCAG 2.0 A), the minimum level of conformance
Level AA (WCAG 2.0 AA), the level generally relied on by the DoJ and the courts
Level AAA (WCAG 2.0 AAA), the maximum level of conformance followed by government institutions and business dealing with the government
If you're not a government agency or an organization dealing with the government, you only have to meet Level AA compliance as that is the most common standard used in the majority of settled digital accessibility lawsuits in the US, it is the level of compliance to which courts have ordered defendants to update their websites.
To achieve Level AA compliance, you must comply with all guidelines at Level A and AA.
How do you start creating an accessibility plan
The first step to start getting your website compliant is determining which issues your site currently has. We recommend getting a free scan of your homepage to get a better idea of where you're standing... Then you can decide whether you need a more detailed and in-depth audit. Once you know and understand what you're facing, then you can start figuring out a plan:
Are you keeping your current website? which means that you need to decide whether you're going to handle remediation internally or outsource it... or
Can you take this as an opportunity for a re-design? Which will give you pretty much a white canvas to revamp your visual look and start fresh with functionalities and code that is accessible by all
If you're interested in handling remediation on your own, there are many tools and resources available to help you streamline the process. However, BEWARE of any software or plugin that claims that can make your website completely accessible with a simple installation. Accessibility is too complex to fully automate. There are some parts that have to do with the code, some other parts with the text, some other parts with images and videos... there are too many moving targets and there are certain accessibility issues which simply cannot be programmatically determined and fixed.
---
Conclusion
With a better understanding of what website accessibility really means and the challenges it presents to a business like yours, now you can make more educated and informed decisions about it.
If you're not sure how to tackle the accessibility of your website on your own, give us a call, we can help.
---
<<Get a FREE home page scan and find out if your website is ADA compliant!>>