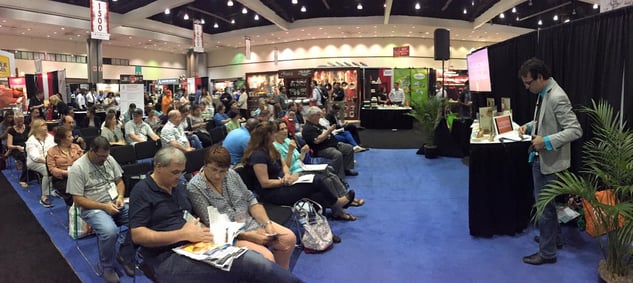 On Sunday, August 28, 2016 Kulture Konnect had an amazing opportunity to be apart of the Western Foodservice & Hospitality Expo located at the Los Angeles Convention Center, where businesses came together to educate the restaurant industry regarding menu trends, profits, how to engage customers, planning design and deco, etc. We want to thank those who came out and showed support! We truly hope you found our insight to be an eye opener and essential to your business! One of our very own, Jorge Pacheco, was extremely honored and thrilled to participate as a guest speaker. The turn out was a complete success filling all 60 seats!
Being in the industry as long as we have, we couldn't help but notice that many restaurants today overlook common menu design mistakes. We thought it was a great idea to share the valuable knowledge and experience we have gained throughout the years with our hospitality clientele.
As shown in the snippet below, Jorge was determined to weigh the importance of paying close attention to menu design by providing 4 imperative steps how to better your menu design and in turn, create a better experience for your guests.
We also had the opportunity to give attendees a chance to win a FREE MENU REDESIGN! Kulture Konnect is happy to announce the winner:
Congratulations to
Sam Spector
from Mondo Taco!
We look forward to working with Mondo Taco to bring their menus to the next level! We will be sure to post the before and after!
Again, thank you for coming out! We want to hear from you! Don't be shy to share your thoughts, photos and questions!