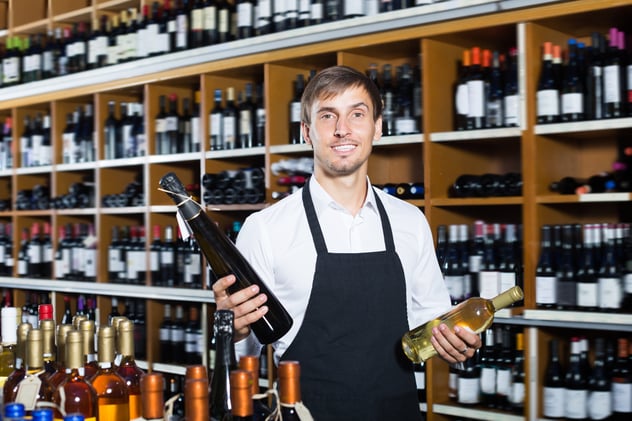 Are you coming up high and dry on marketing ideas to promote your wine or winery?
If the answer is yes, you've come to the right place.
Your wine marketing strategy or ideas must be creative and customer focused in order to build solid and dependable relationships with your customer base and run a successful winery. With wine sales said to have reached $60 billion in 2016 and an estimated $39.8 billion in sales from domestic wine in the U.S., we want to make sure you are in on the dough. With that said, let's get started and turn your tasting room into a full house and visitors into loyal customers. We're filling up your glass with 10 great ideas to add to your wine marketing strategy.
1. A Different Taste
Wine lovers are more than familiar with the good ol' traditional wine tasting. Don't be afraid to change it up and plan a tasting event you feel confident wine lovers will enjoy. Visitors come for the experience! Your tasting event could offer anywhere from winery tours, live music, food, and booths selling your products. Train your staff to story tell and educate customers on wine. Be sure to mingle with your guests and offer a winery-only promotion to boost your sales.
2. Blog
Start blogging! Share recipes and recommendations of foods to pair with certain wines. Keep your readers in the loop about upcoming events, specials, and current and upcoming products. Also, blogging helps with your search engine optimization. Use software such as HubSpot to help you figure out which keywords will help you rank. The easier you can be found on search engines the better.
3. Thank Your Loyal Customers
Have a giveaway for your existing customer base, such as free wine tours, wine tasting or tickets to your next wine tasting event. But wait! This does not apply to your social media followers. This idea applies to rewarding your current customers who are members of your email wine club. These are your true fans. Use social media to encourage your followers to join and use these giveaways to lure them in.
Other ideas: set up a point system for your wine club and determine what your wine club will offer. Offer early bird pre-sale ordering and host exclusive events for wine club members only.
>>Save money and reduce your marketing spending today! Start with this 10 Things to Cut From Your Restaurant Marketing e-book here!
4. Your Winery as a Wedding Venue
Weddings are expensive and bring in the dough! Plenty of people are always interested in having their wedding at a winery. If you have a restaurant included in your winery, even better! Not only can you host the ceremony, but also the reception, which means money in your pocket. Research local and regional websites where they list wineries that host weddings and contact them to get listed. There are plenty. Figure out what other wineries in your area are charging and determine prices. Decide if you want to hire a wedding planner to work for your winery.
5. Educate Your Customers on Social Media
Not only is your blog page a perfect platform for this, but using your social media to educate customers and fans is a great idea as well. Repurpose bits and pieces from your blog onto social media. Still confused? For instance, post a photo with a recipe, share a wine fact or suggest food and wine pairings such as, "Did you know merlots pair with chicken? #DinnerIdeas." Then include the link to your blog to get the rest of the content.
6. Rank on Tripadvisor
We're so accustomed to using Yelp for reviews and locating practically anything we are looking for. Some tend to forget many tourists utilize other review sites such as Tripadvisor. This site will give you tips on "things to do" nearest to you. As a winery, I suggest you visit the site to find out where you rank. Use the search feature to type in your city or location then search "things to do." Are you on the first page? Becoming front and center on Tripadvisor requires work. Be sure to claim your listing, respond to reviews and encourage your visitors to write a review. Consistently keeping this up will help with your ranking.
7. Partner Up
Get involved with the tourism or wine-related tourism in your area. Contact your regional and state tourism entities and find out how you can work with them and get your winery involved. Subscribe to their newsletter, take notice of what type of campaigns are running and try to find a way to promote the region you are located.
Another idea, if you already haven't done so, research your local wine shops or retail stores where they sell wine and find out if you can partner up with them. This will open cross-promotional opportunities.
8. Social Media
According to an Animoto survey that was conducted, 76.5% of marketers and small business owners who have used video marketing say it had a direct impact on their business. Facebook, Twitter, Instagram and even SnapChat are all great platforms to post video. However, don't forget your YouTube channel can also be just as good. Posting clips of your events, tours, recipe tips, educational information and even your products is a great idea. Then you have the option to share the video across other platforms.
9. Wine Classes
Did anyone say Groupon? Tourists and even locals are always looking for something new, fun and interesting to do, especially on Groupon. Offer fun, educational wine classes for instance, classes that teach how it's made, what to pair it with, how to serve it and how to store it. For more information on how to get on Groupon, visit here: Groupon Merchant.
10. Hire an Agency
Marketing your winery or any business involves a lot of work and it can be a full-time job. We're talking about branding, email marketing, social media marketing, managing your website, and designing your print. With this said, you want to hire a firm that is familiar with your industry. Kulture Konnect has been working with brands in the hospitality industry for over 10 years and has a team of experts that will help you strategize and design your content. Contact us to learn more about the value we can provide you.
---