We are living in a time where selfies and documenting your every moment on video has become a phenomenon. The popular social media application known as Snap Chat has exploded through the years with users sharing photos from snapping buffalo wings from Buffalo Wild Wings or taking a selfie drinking their morning coffee using a Starbucks filter to complete their snap shot. Snap Chat filters have become a popular trend among users and restaurants find it as an opportunity to gain exposure. S
o, why not make your customers' experience a little more interesting? With Snap Chat reaching over 150 million users, your filter can potentially be seen by thousands.
If you are interested in purchasing a spot to feature your filter on Snap Chat, here are several important tips you'll want to examine when designing your restaurant filter.
Snap Chat Filter Tips and Secrets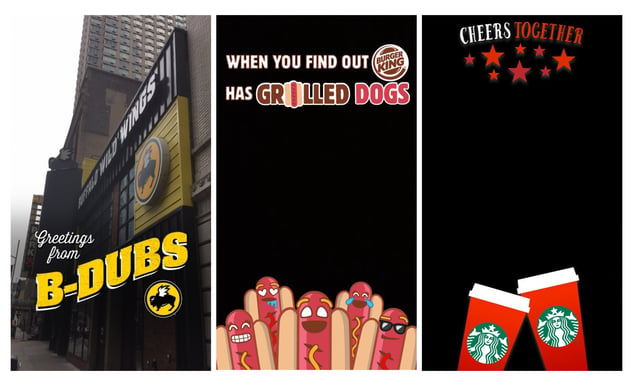 1.) Keep your filter simple means to include your logo or brand name in a quick message resembling the Starbucks filter or with an image displaying what your specialty is similar to the Burger King filter.
The design can be as a header and footer, or just a footer equal to the Buffalo Wild Wings filter shown above in the top left. According to Snap Chat, the sponsored geofilters reach 40%-60% of daily Snap Chat users.
2.) Consider time. Snaps can be seen at a max of 10 seconds, so you do not want a very detailed filter since it might only be seen for a quick second.
3.) Size matters.

According to Snap Chat's guidelines, w

hat you might not know is

y

our filter must be a width of 1080 pixels by a height of 1920 pixels. Also, your filter must be saved as a Transparent PNG - NO BACKGROUNDS.
4.) Know the reach in which you want your filter to generate. You'll have to draw a perimeter on a map determining the range, so be specific.
What to Avoid


1.) Making the filter too busy. This will cause your filter to get denied by Snap Chat.
2.) Making a full border around the frame. This can be done but strategically. You cannot have it too wide or you cannot cover the area where a selfie or image can be placed.
3.) Going over the required size of 300KB. This is why it is best to keep your filter simple! More artwork means the size of your file will be larger.
---
Conclusion
Snap Chat filters help in marketing your restaurant without spending huge amounts of money. Your maximum reach at the end of one day could reach hundreds of potential returning and/or new customers to your restaurant. Do not be afraid to jump into the social media market of advertising your restaurant. Go ahead and create your filter or outsource for design help. Either way it will benefit your restaurant.
Are you seeking marketing or social media professionals? Contact us here
Visit our portfolio for a glimpse of our work here
Amplify your brand with our
24 FREE Facebook Cover Images here