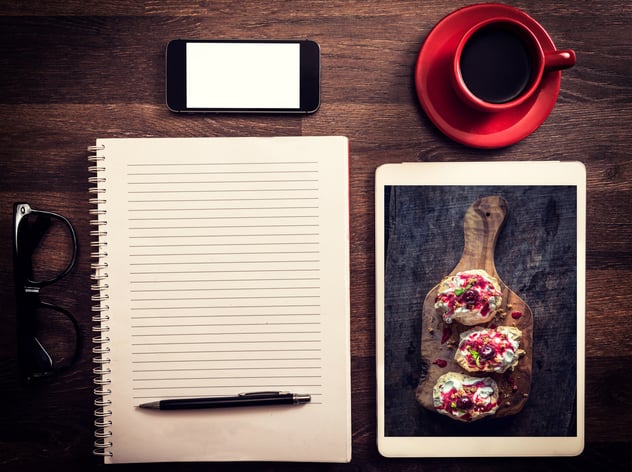 Who knew food bloggers and Instagram famous foodies who dedicate their time to documenting and blogging their favorite food and drink spots could be a significant help to your restaurant marketing?

When you hear someone say that social media is powerful, it's because they are absolutely right! Social media channels such as Instagram and bloggers are just another form of "word of mouth." And having a well-known food blogger write about your restaurant could give you the sales boost you need. Bloggers have the ability to get the attention from locals and have an influence on public opinion.

81 percent of U.S. online consumers trust information and advice from blogs.
92 percent of companies who blog multiple times per day have acquired a customer from their blog.

67 percent of people say they're at least a little more likely to purchase a product after a friend or family member shared it via social media.

And just so you know, many food bloggers and social media influencers are looking to build their own audience. They utilize social media such as Instagram, to grow their following. It becomes a win-win situation for your restaurant and for the food blogger.

So, now let's get down to business! Here are the top 8 food bloggers and Instagram foodie influencers in the Los Angeles area that your restaurant could collaborate with to boost your sales and restaurant marketing.
Josh Lurie from Food GPS
Food blogger Josh Lurie is the mastermind behind Food GPS providing you drool worthy Instagram updates at his heavily followed account @foodgps. To contact Lurie for promoting or for a chance to be featured visit https://foodgps.com/contact/ and be sure to fill out the form.
---
Save money and eliminate the marketing you don't need. Download this e-book here today!
---
Caroline on Crack
Caroline has a sweet addiction to the best drinks in Los Angeles. With over 21.4K followers, it'll be worth inviting @carolineoncrack to your restaurant for a drink. Contact Caroline on Crack here: http://carolineoncrack.com/contact/. You can also follow her on Facebook by clicking here.
A Life With Peace
Lindsey Baruch from A Life With Peace deliciously documents her foodie journey from the most hidden spots to the trendiest spots in Los Angeles. For promotion inquiries contact Lindsey at lindseybaruch@gmail.com or click here.
LA Foodie Guy
LA foodie Guy has close to half a million Instagram followers with views and likes in the thousands. It's safe to say he is one of the top foodie influencers in Los Angeles. Follow him on Instagram @LAfoodieguy. And if you would like to catch him in action follow him on SnapChat @LAfoodieguy. For promotion inquiries contact him at lafoodieguy@gmail.com.
I'm hungry in LA
With over 100K followers and a website, Eddie from I'm Hungry in LA is constantly on the hunt for tasty spots in the Los Angeles area and killing it. His Instagram foodie page (@hungryinLA) not only has a massive amount of followers, but also has an excellent amount of engagement and likes. This is extremely important when you are seeking exposure. To contact Hungry in LA for inquiries email, eddie@hungryinla.com with a brief description of your brand and opportunity. Also, visit http://www.imhungryinla.com.
LAfoodie.com
LAfoodie.com is always looking for new and fun collaborations. From LA to Orange County to the Inland Empire, @lafoodie documents drinks, desserts and beautifully done up meals across Southern California. Visit LA Foodie's Instagram page to get a glimpse of their drool worthy posts. For more information, contact LA Foodie at blog@lafoodie.com.
Dashofles
Leslie from Dashofles brings her touch of food, travel and fashion to her perfectly documented Instagram account with more than 4,000 followers and lets not forget, Leslie's Dash of Les website. Contact Leslie for inquiries at Leslie@dashofles.com.
Jonathan Gold
Jonathan Gold is also a top choice among food reviewers in the Los Angeles area. But Gold isn't quite a famous Instagram foodie. He is a well-known restaurant critic for the LA Times. If you get on his radar, then you have literally strikes gold! Jonathan has been reviewing restaurants for more than a decade and working with the LA Times since 1986. Getting in contact with Jonathan Gold could get tricky but its always worth a shot. Try contacting the LA Times advertising department to get information on how to get in touch with Jonathan Gold myad@latimes.com. You can also follow Gold on Instagram @the_thejgold.
---
Are you expanding your restaurant and lacking the time to execute your marketing on your own? With over 12 years of experience we can help! Contact us today!
Save money and eliminate the marketing you don't need. Download this e-book here today!