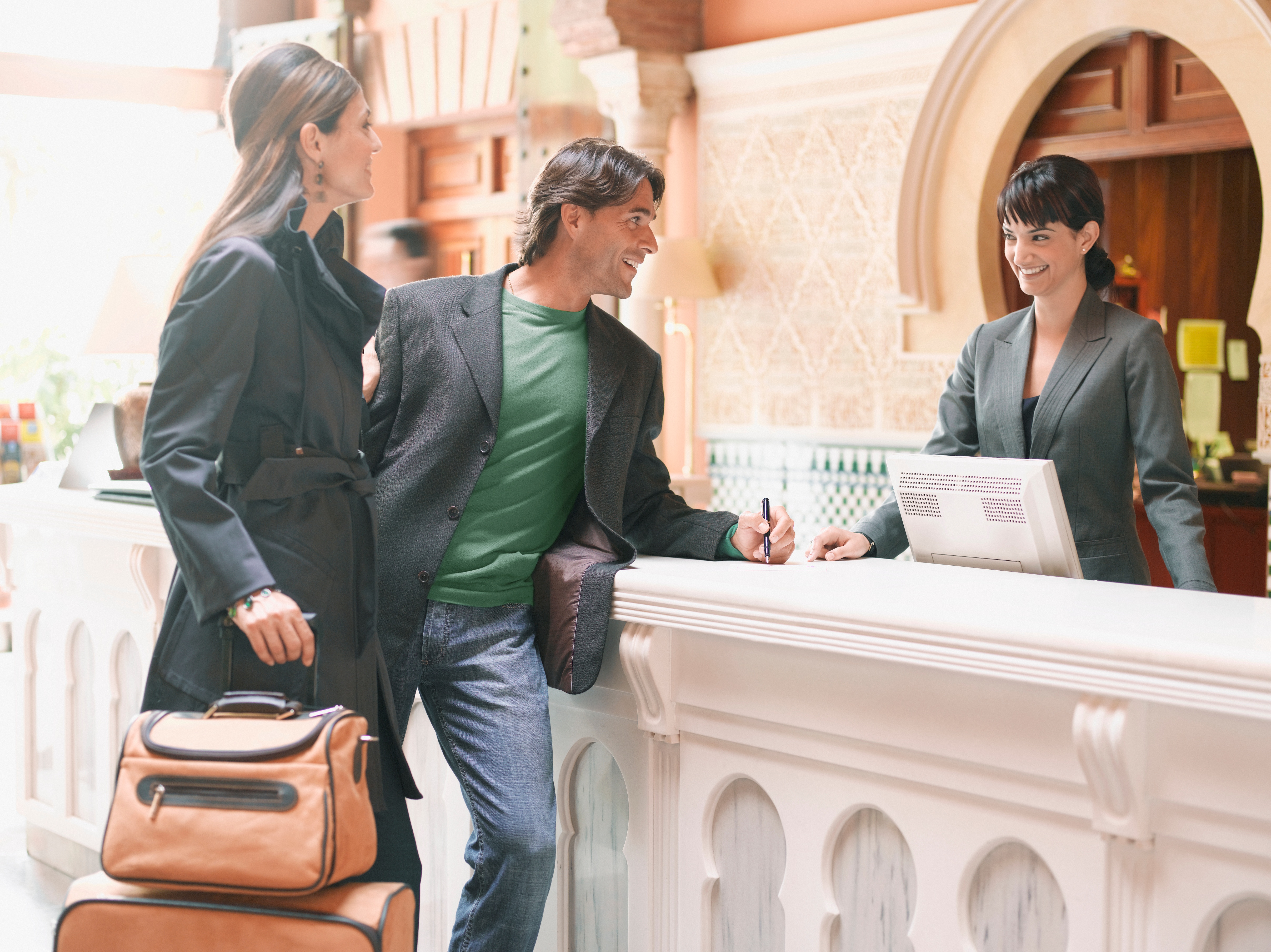 Running and owning a hotel means that you are facing plenty of competition.
In order to continue to be successful, it is important to be knowledgeable about what factors are creating today's challenges in the industry. This way, you will know how your hotel can come out on top.
Here are the top 5 factors that are bringing trouble to the hotel industry and ways you can overcome them.
Airbnb
Airbnb is every hotels worst nightmare.
Created in 2009, Airbnb is an online marketplace that allows for users to rent out their properties or spare rooms to travelers for a reasonable price. Or, vice versa, allows a user to rent out someone's property or spare room when traveling rather than staying at a hotel (Home BT). In its first year, Home BT shows that 21 thousand guests were able to find a place to stay with the help of Airbnb. Today, Airbnb lists approximately 800,000 properties globally.
Why is this creating a problem for hotels?
Airbnb offers cheaper rates.
Aside from competing financially, guests claim that booking an Airbnb rather than a hotel room allows you to better assimilate into the community you are traveling to. So, instead of feeling like an outsider, you feel more like a native by staying in a real neighborhood (Home BT).
Whereas some hotels have difficulty making you feel at home in your own room, such as not allowing you to have control over room temperature (Inc.). Hotels aim to make guests feel like guests (Trivago).
The cherry on top? Airbnb makes booking online an easy process and even allows an easy way to contact property owners with any questions users may have regarding prices and amenities (Home BT).
Your Solution?
It's not easy for hotels to lower rates, but ask yourself why are your rates high?
What does your hotel provide that an Airbnb does not? Make sure to highlight your strengths.
When guests pay hotel rates, they are paying for a room to stay in and full service. Certain hotel rates include paying for services like room service, valet, a gym, a pool, etc. All things that are not commonly included in an affordable Airbnb space.
Remind guests that their vacation time should be a true vacation and should relieve them of duties such as cleaning, where in an Airbnb, guests must continue to spend time cleaning up after themselves.
---
Make it easier on yourself by downloading this free checklist!
---
Creating a Unique Brand
The local competition charges the same rates as your hotel. You both offer valet, both have a pool and gym for guests to use, and both are equal distance away from the closest beach or tourist spot.
Figure out why are new guests going to choose to stay at your hotel rather than your competitors.
What sets your hotel apart from all the rest? What makes you unique?
Many hotels today provide the same standard services, free wifi being the number one amenity offered according to Ranker.
To beat out the competition, your hotel needs to create unique experiences that delight guests and make them impressed with what your hotel has to offer.
One example, the Radisson Blu exemplifies how to show guests an experience to remember. When you book a room online at this UK luxury Edwardian Hotel, you can choose the floor you stay on and certain in-room amenities that are in your room (Essence).
When you arrive, you will find that the entire staff is dressed in medieval costumes and you can participate in the rent-a-pet program that lets you borrow a goldfish as a companion for the duration of your stay. Edward, an SMS chat bot, will always be located at the concierge desk ready to answer all guest questions regarding pro tips and directions in person or through text assistance (Forbes).
These are all reasons why the Radisson Blu was named No.1 on Essence's list of "10 Unique Hotel Check Ins That Will Make You Want to Book a Room Right Now."
Justifying Rate Increases
Hotel rates increase by the year. Guests will question higher prices and your hotel should have an obvious, valid offer.
Many hotels succumb to the pressure of competitors increasing their rates and end up increasing their own rates for no good reason (Portada).
If your hotel is considering raising prices, make sure improvements are being made to validate the price increase (such as what?). Many hotels choose to focus on offering "high-end" services and "high end" facilities to up the price (Portada).
This could mean hiring a bartender with a special mixologist license in order to provide guests with skilled high-end alcohol services rather than hiring a bartender whose only experience is from small party gigs.
Or maybe your upgrading the gym by replacing standard equipment with state-of-the-art equipment to impress guests who make physical fitness a priority.
At the end of the day, guests will be able to appreciate the higher-end services they are paying for. They will be able to clearly understand and appreciate the difference of booking a stay that costs 100 dollars more makes within their experience.
Boosting Online Reviews
Many hotels view travel sites as enemies, as they can be harshly critical when providing hotel reviews. This should not be the case.
Hotels should aim to team up with review sites such as Trip Advisor and Booking to boost their online reviews, as they are the top two travel sites used prior to people booking rooms (Trip Advisor).
In general, Rezdy reports that 95 percent of people looking to book a room at a hotel read reviews before booking and 69 percent of those reviews were provided by travel review agencies, 57 percent from online travel agencies, and 56 percent from tour operator sites for global travelers.
Now in the attempt to increase positive reviews, hotels can focus on actively promoting reviews to guests. This can simply be done by asking guests to quickly leave a review while they are checking out or with follow up emails that provide out links to travel review websites (Site Minder).
These travel review sites can also be used as a tool to make improvements to the service your hotel provides. Negative reviews are unavoidable in the hospitality business, because let's face it. you can't please everyone. It is important that your hotel finds poor reviews and addresses them with polite responses because possible future guests are watching. The way you choose to respond will be a small sample of the customer service you provide (Rate Gain).
Aside from addressing poor reviews, read through them and take note. Maybe room service isn't providing the best job they could be, or maybe it's time to think about an interior décor refresh. Taking action in addressing these complaints will boost reviews by increasing guest satisfaction (Site Minder).
Updating Technology
Today's digital world is very technology-dependent and is no different if you are in the business of hotels.
Technology plays a crucial role in users being able to book their stays online, especially with the increase of international travel (Infraspeak). Orbital Shift reports that in 2016, the US saw over 75 million international travelers. In 2020, this number is expected to increase to be over 83 million.
Hiring staff with the communication skills that can accommodate the various languages spoken by international travelers can be a difficult task due to its rarity. This is where staying up-to-date with technology can be a game-changer.
If it hasn't been considered already, your hotel needs to think about acquiring technology that can translate languages for you. For example, the Google Pixel Buds are easy-to-use wireless headphones that can translate 40 different languages in real time (Orbital Shift). This tool can eliminate the language barrier between staff members and guests, improving communication and allowing for better guest satisfaction.
Does your hotel own a pair already?
Another trend hotels are beginning to play with are self check-in kiosk tablets. Though some people prefer arriving to a face-to-face welcome when they arrive to their hotel, kiosk allow for a faster, wait-free check-in experience for those who may be in a rush or just anti-social (Orbital Shift).
Another perk that comes with the kiosk, is that people can check-in using a mobile device. This can eliminate the problem of people running late to their specific check-in time and losing their room because of it (Orbital Shift).
In Summary
There are plenty of solutions to explore to stay competitive within the hotel business. All challenges evolve around the experience and satisfaction of the guest. If guest satisfaction and experience is always kept as the number 1 priority, then it will be difficult for the success of your hotel to fall short. Being creative with your solutions will help make your hotel stand out for all the rest, especially if those solutions are inclusive to international guests.
---
Make it easier on yourself by downloading this free checklist!