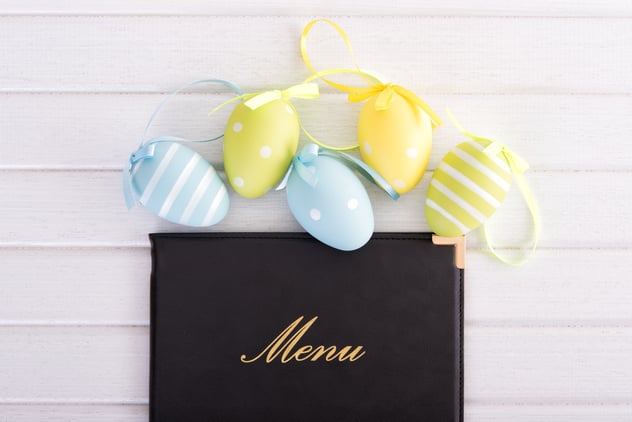 Easter is just around the corner and there is a lot of spending going on... according to Time.com, a whopping $17.3 billion was spent in 2016 on Easter candy, clothes, food and decor. I bet you are wondering how you and your restaurant can get in on some of that spending right about now!
Here are 14 creative easter marketing ideas that will bring in the sales that you are looking for this year.
1. Offer a special Easter brunch with a prix fixe menu and champagne.
Holidays are a time for families to get together and many families would prefer to be catered to instead of working all day in the kitchen. The prix fixe menu offers multiple courses of a set selection of entrées. Guests find great value in these menus and often treat themselves on these special holidays.
2. Host an Easter egg hunt on your property.
There is nothing more exciting that rushing around collecting dozens of special eggs that just might hold the big prize. This can be for kids or even for adults too! Be sure to advertise to the community around you to attract the maximum people possible.
>> Is your menu set up to gain the biggest profit margin? Download this FREE e-book to see why your menu design is so important.
3. Advertise your Easter promotions on social media.
Social media offers a perfect method to shout your promotions from the mountain tops. You can choose your target audience, you can review your metrics to see what is working and you can make adjustments to make your ads in reaching the masses.
4. Sponsor an Easter event in your city.
Sometimes there is just not enough time in the day to host something yourself, but don't be discouraged. One of the best ways to market your restaurant is through sponsorships. See if there are any Easter egg hunts in the city that you can help sponsor in exchange for advertising space at the event.
5. Guide guests to the buffet line with bunny footprint decals.
In store decoration can really get guests in the mood for celebration. When the atmosphere is fun and entertaining, guests have fun and spend more. They leave with a great feeling, will tell their friends all about their great experience andwill want to come back over the years. Word of mouth advertising is one of the best since it comes with built in trust.
6. Invite guests to meet the Easter bunny at your restaurant.
This marketing tactic is very successful in drawing the family crowd. Parents want their kids to have a fun experience and what better way than meeting the Easter bunny during their dining experience. Many families like to take yearly easter photos, so if you also advertise free photos, this would be a really great bonus.
7. Offer a coloring station for kids.
When the adults want to enjoy a nice brunch, it is inevitable that the kiddos will want to bounce around and interrupt. One of the more successful Easter marketing ideas is to provide a decorating table where children can decorate paper eggs or color in bunny printouts.
8. Send out an egg-shaped postcard inviting new business.
With more and more companies using digital marketing... our traditional paper mailboxes are getting very empty. Why not take advantage of this by sending out an eye-opening postcard that will capture the attention and bring in new business?
9. Create an online selfie photo contest.
With social media growing everyday, get your audience involved by organizing a selfie photo contest. The benefit of a social media contest is that you get exposure from the original poster spread out over all of their social media friends. It is an easy way to spread the name of your restaurant and burn memory units.
10. Use fun Easter marketing terms.
Easter has always been centered around bunnies and chicks and eggs. So be sure to use fun language to make your brand stand out. For example "EGGS-citing Cocktails" or "Hop on Over for Your FREE Dessert" etc. etc.
11. Set up an Easter-themed photo booth.
Photo booths are a creative way to market your restaurant. It is so fun for the guests to use silly hats, masks, glasses, and anything else that is colorful and will add to the photo. One of the biggest benefits of the photo booth software is that you can add your restaurant logo and the date so it prints on the photo and will create a memory that will be brought home and framed.
12. Create an Easter email marketing campaign.
If you have an active email list, you will definitely want to plan out an email campaign to draw in guests. Average open rates will be around 10-25% of your list so be sure to add a clear call-to-action telling guests exactly what you want them to do. Would you like them to make a reservation? Would you like them to call for more info? The simpler you make it, the better results you will get.
13. Do a "Guess how many jelly beans are in the jar" contest.
This contest is a great way to get people involved. You can offer up a grand prize for whoever guesses the number. I could be a free meal, or any type of merchandise you may have to offer. We all like a good old-fashioned contest!
14. Create a guerrilla marketing concept
Guerrilla marketing is when you market in a way that is uncommon. For example, back in 2015, cadbury decided to put 3 gigantic cadbury eggs into the lochness monster lake. It drew so much media attention and sales skyrocketed.
There are so many creative ways to promote your restaurant! Here are some creative Easter Marketing ideas from last year as well! Please SHARE in the comments other creative marketing ideas that you have done for your restaurant.
---
Are you seeking marketing professionals? Contact us here for more information.