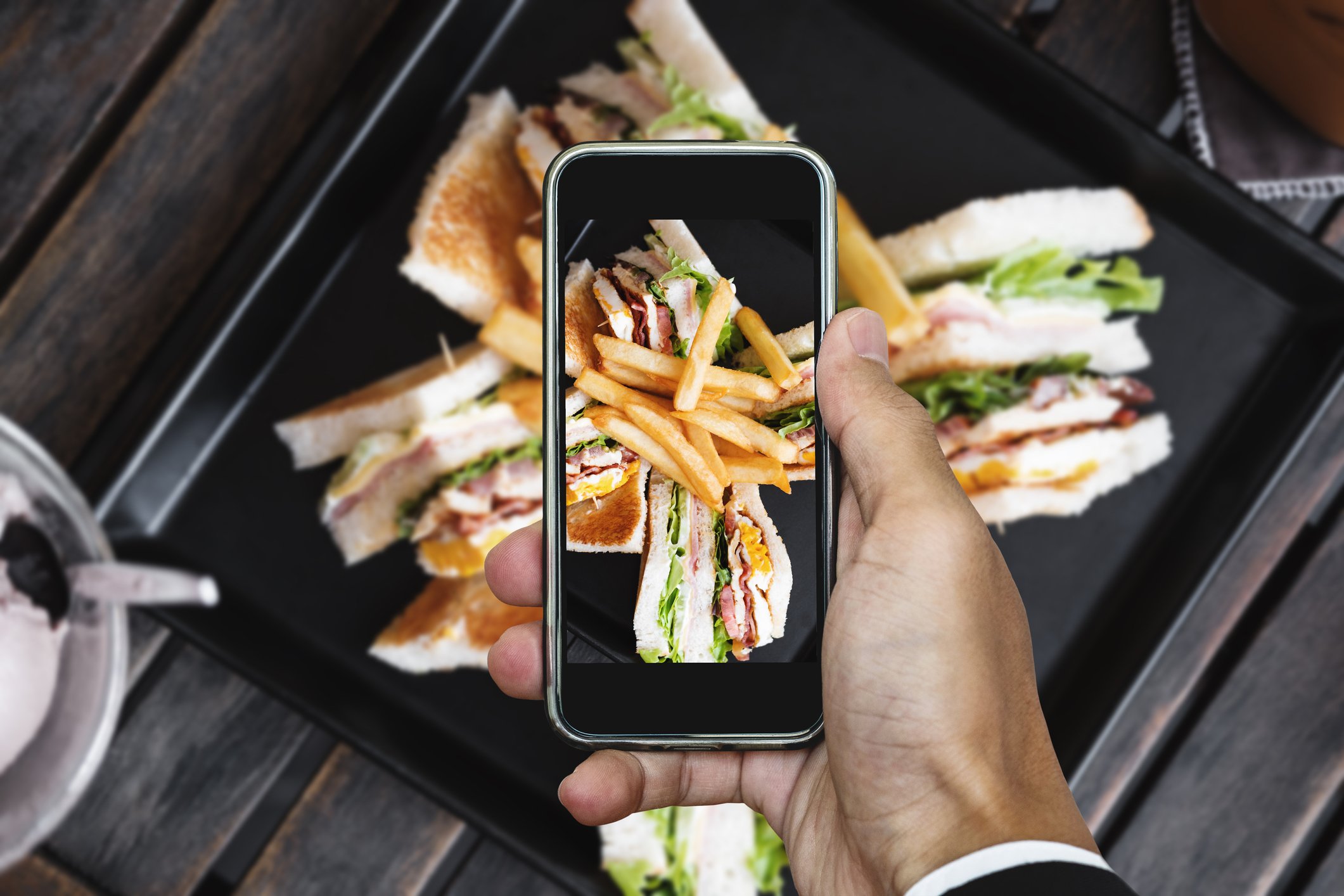 Marketing trends are evolving year after year. Getting your restaurant marketing strategy right is not always easy if you don't know where to begin.
For the new year, there are many trends that can be used to successfully market your restaurant. These 10 fresh restaurant marketing ideas will help you stay on top of recent trends and are key to get the attention of new/existing customers.
The Instagram "Nametag"
In October, Instagram rolled out the "Nametag" feature which works similarly to a QR code. Other platforms such as SnapChat were the first to come up with this idea as it made it easier for users to add friends just by using their smartphone camera to scan usernames. These codes allow others to find and follow your account quickly (Mashable).

Since this feature is considered a QR code let's give you the rundown on what they are exactly and how they work. QR codes stands for "Quick Response" codes. They are images composed of black and white pixelated squares that can be read by smartphones since most of them now have QR code readers built into them. After its name, QR codes were created to provide information that smartphones can quickly read.
When a smartphone scans a QR code, it will automatically open information related to the item that was scanned, like a link to a website, a coupon code, or maybe a video pertaining to the item.
QR codes are being used in marketing and gain businesses more traffic - both online and in person. Many places are utilizing QR codes and placing them on product packaging, printed magazines and newspapers, websites, posters and flyers, kiosks, business cards, brochures, storefronts, and tv advertisements (Smart Insights).
When QR codes were first implemented into marketing, they were not considered to be very popular, but today, its popularity has increased. Scanova reports that a statistics survey shows that in 2020, 11 million US households will scan a QR code. This will be an approximate increase of 9.76 million scans from 2018 alone (Scanova).
This growth prediction can be accredited to the support of QR codes by companies such as Apple, who have implemented built-in QR code scanners within iPhone cameras.
This new feature is a great way to attract more guests to your restaurant's Instagram profile and to acquire followers. Just a few ideas how you can use this feature to your advantage: add your Instagram "Nametag" in area's where it could be easily seen by customers such as menus, gift cards, coasters and receipts.
Facebook's "Order Food" Option
Did you know Facebook added an "order food" option back in 2017? Making it more convenient for users to search restaurants and order food for pick up or delivery through Delivery.com or Slice.
This feature makes ordering for convenient for users, all they have to do is click the added hamburger button to begin browsing through restaurant options. There's no need to leave the app or taking extra steps like searching through separate delivery apps or the restaurant's main page while using this feature. It's a direct link to start placing an order, allowing users to get the job done faster.
To use this feature, your restaurant must be on Slice or Delivery.com. If you are interested getting on one of these apps, here's where you need to go. For Delivery you will need to click on merchants and for Slice go to join our family. Facebook also has instructions on how to add the "start order."
---
See the results of a growing restaurant chain and how Kulture Konnect helped build their target audience in 3 months.
---
Instagram TV (IG TV)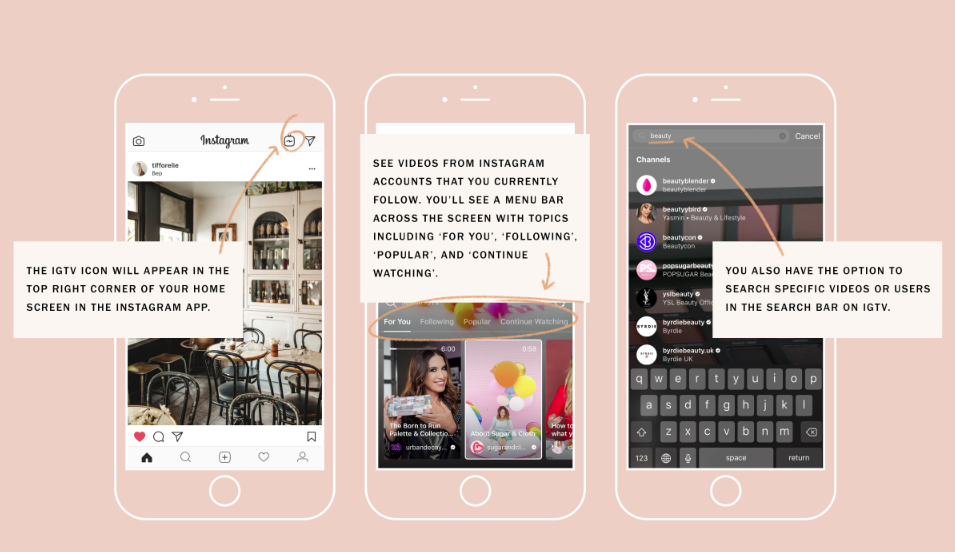 IGTV is a newer feature on Instagram that features videos users can watch from their favorite brands or personalities.
One of the first restaurants to create a video for IGTV? Chipotle. The video was an ad and presented hands reaching into the signature big bron Chipotle paper bag and taking out multiple menu items (like burritos, salsa, chips) out of the bag that seemed never-ending. Through this video, Chipotle was portraying to viewers how they have an "endless amount of options to choose from" (Digiday).
Being one of the first brands to use IGTV, Chipotle was able to reap the advantages from being one of few videos that were being presented on the new feature. The video received 10,000 views - which is impressive to their average views on other videos (15,000 - 50,000) (Digiday).
As of now, IG TV is ad-free, which users are enjoying, aside from its vertical quality. The platform intends on competing with YouTube, and also places focus on targeting Generation Z, the generation that prefers video.
Creating constant content to feature regularly on Instagram TV is something to consider to make time for as Instagram will be seeking out businesses who are willing to use IGTV with incentives in the coming year.
So, how might a restaurant get on IGTV? Simply go to your Instagram account, click on the IGTV icon at the top right of your screen. Next, you will click on the setting icon at the center to your right, then hit "create channel." From there you are able to add and upload your videos.
Shoppable Posts
Instagram also created a new feature that enables businesses to post photos of their products and tag prices including the name of the product.
This makes locating merchandise simple, as the tag doubles as a direct link to your website where the product can be found and placed in an online shopping cart, ready for check out. Placing these shop tags on posts increases your web traffic while encouraging sales. Not to mention shoppable tags make locating merchandise very simple and hassle-free for users.
You might be asking yourself, what does shoppable posts have to do with restaurants? How might a restaurant utilize this feature? Restaurants can use shoppable posts to advertise dinner specials and gift card promotions. The tags could be linked to the restaurant's home page or a web page that allows online gift cards to be purchased.
GeoTargeting With GeoTags
GeoTargeting specifically markets to a specific geographic location. This is achieved through zip code information that is usually gathered by device IP or IP address. This can be done with geotags, which are ways to "tag" photos or any social media content with the geographical location you are at. For instance, this is seen on SnapChat as you take a photo or video and swipe the different filters. One filter might include your specific location and are only available to those who are physically there.
Why would anyone do this? To allow followers to know where they are and statistics show that content that includes a geotag gets 79 percent more engagement than content without a geotag (Single Platform).
Thanks to SnapChat, other social platforms such as Instagram, Twitter and Facebook have also followed suit.
Pictures are taken and then a geofilter is added as a kind of decor, and then shared with followers via Snapchat, letting everyone know where they are. - in other words, free advertising done by others for you! Restaurants have been able to take advantage of geofilters with sponsored ones (GeoMarketing).
Many restaurants, like Taco Bell, Starbucks, and McDonald's use geofilters as a way to market their brand. Here are some examples of what the filters look like:
Your restaurant can create a personalized geofilter and control how long you want the filter to run for as well as what location you want the geofilter to be available to. This can be done through SnapChat's website that can also be accessed through a phone on their mobile app or on any internet app. It can also be done on a desktop.
Instagram also has ways for users to geotag their posts for others to see. When editing a post, they will have the option to add a location to the top of their post. After it's tagged, it will be "clickable," meaning that users can tap the location only to reveal a map of where your restaurant is located as well as a listing of your restaurant's own Instagram profile and other posts with the same geotag that are either very popular or the most recent. This will make an increase in user engagement more likely for your restaurant's profile.
Using More Engagement Features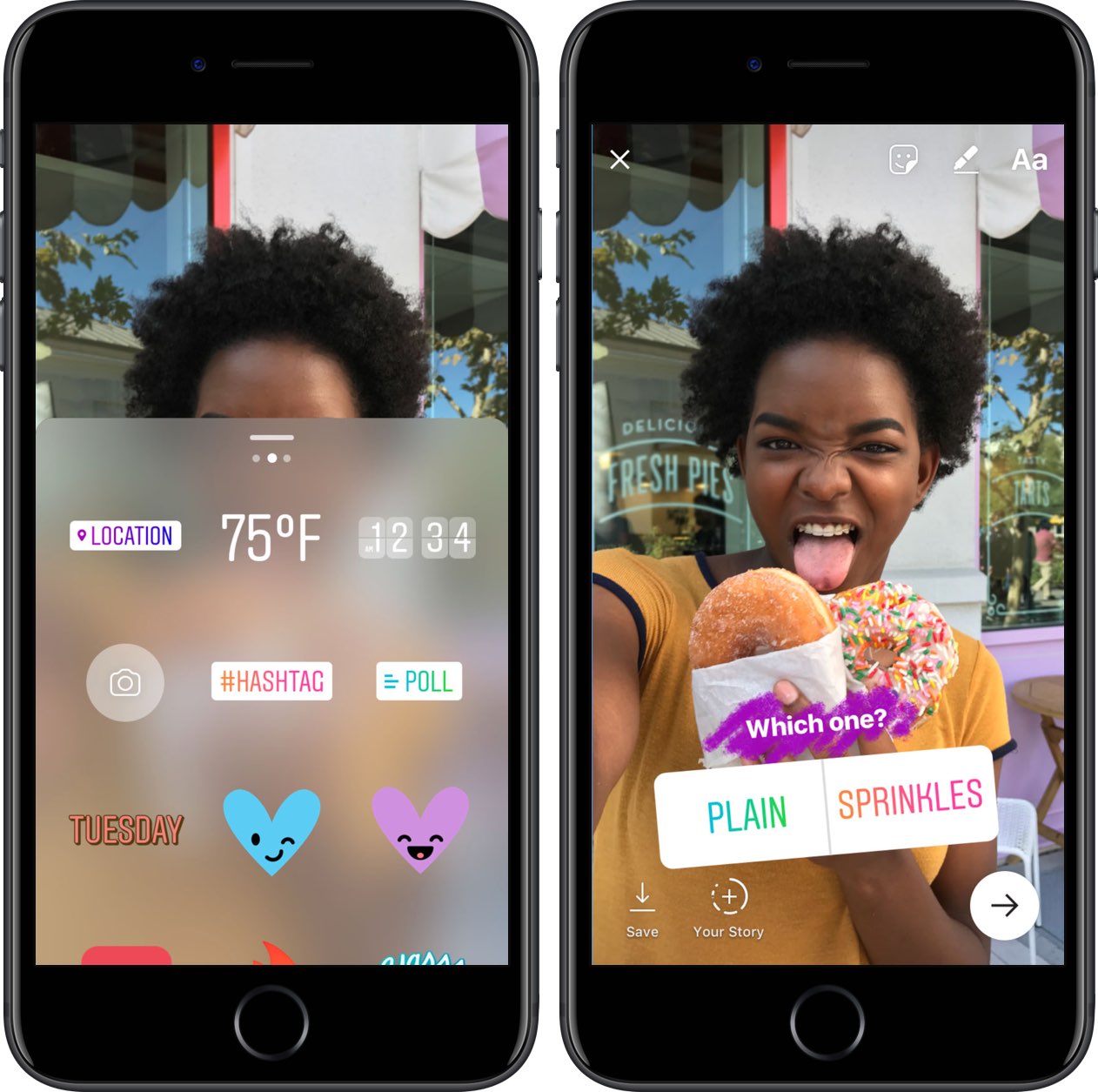 Instagram has added features that users can use when posting to their stories that make their content interactive. Features like the questions, the emoji slider, and polls are "stickers" that Instagram includes as an edit feature and can be added on to story content to create an interactive experience for followers.
The questions feature allows viewers to comment any concerns or ask any questions they may have for your brand, and allows your brand to answer in return. The conversations had between viewers who participate are posted to your profile's story and can be seen by all viewers, hopefully answering questions that others may have.
The emoji slider allows your restaurant to gain emotional feedback from consumers. It allows for a comment to be said or a question to be asked by your brand and by using an emoji expressing an emotion of your choice, users can slide the emoji side to side to express how strongly they feel about the topic.
Lastly, the polls option is what it sounds like. It allows for you to post a question with two different options for answers that viewers can choose from to gather consumer feedback for your restaurant instantly.
By being more interactive with followers, brands quickly increase their engagement numbers, resulting in your restaurant being credited with being able to influence more powerfully.
Not only can implementing these tools increase engagement numbers, but they allow for your restaurant to gather feedback quickly and directly from the source. According to a Wunderman survey, 79 percent of consumers agree that they prefer it when brands make it known that they care about them and their purchase choices.
Using Instagram's "polls" sticker is a way for your restaurants to display this care and concern for your consumers. Maybe your restaurant is not sure of which wine should be featured on special for the new year. An easy solution? Poll your consumers, let them tell you what they would prefer.
In the new year, it is predicted that all brands will increase the use of these tools by posting surveys and questions on their stories for followers to respond to and to have open conversations with them (Adweek).
Social Media Influencer Marketing
Networking will always be an important part of marketing. Sometimes your success can depend on who you know. Do you know any big name social media influencers? If you don't, start making a list of influencers in your area and reach out. Remember to contact influencers who are in your industry. In this case, since you are a restaurant you will need to focus on foodie influencers and food bloggers.
Building connections with people who have a large following on social media accounts like Instagram or Twitter, can boost your own brand awareness. Also, by reaching out to an influencer, your restaurant can reach a new audience. This will result in reaching new followers and potential customers.
Statistics show that 70 percent of millennial consumers allow social media influencers to be a large factor in making decisions when it comes to spending their money.
Try inviting an influencer to come to your restaurant for an experience free of charge in exchange for them to post a meal they have at your restaurant and some kind words to encourage their followers to visit as well.
A study from Linqia shows that 94 percent of marketers that used influencers for marketing found it to be a successful tactic. These findings are the reasons why businesses have decided to double the budgets for influencer marketing.
Remember, choosing an influencer who has a following that is relevant to your brand. Making sure the influencer is relevant will help you gain an organic following that will be genuinely interested in your business. Otherwise, your target market will be way off.
Host Social Media Contests
A great way for restaurants to build their email list, increase website traffic, or boost engagement on social media is to host a social media contest!
The first step to creating a contest is to understand what your restaurant wants or needs to achieve from hosting it.
Do you want to increase the engagement your Instagram profile receives?

Do you need to boost the number of emails on your email list?

Knowing this will determine the rules your contest will have for entry.
1. One example, your restaurant could post an image on Instagram promoting the contest. The contest could be perhaps a free dinner party for one user and 10 of their friends. But in order to qualify or enter the contest you must follow several steps. This could be having contest participants liking and sharing the post to spread the word or they must sign up for your email list since you are short on contacts. Whatever your goals might be, come up with contest rules that will benefit you.
2. Having users sign up for email subscriptions will increase your restaurant's email listing, which means you can reach new and more users with email marketing when needed.
LIVE Video on Social Media
Restaurants are always trying to reach new people and new customers. Another way to reach your audience is by using LIVE Video. Interestingly, LIVE Video has really taken off, as statistics show that people are choosing to spend three times more watching the live videos over the pre-recorded video (Single Grain). Single Grain also shows that live videos are the preferred type of content over formal blog posts by 80 percent of brand followers.
Here are a few ideas to consider:
One to utilize LIVE Video, restaurants can use the feature to provide live Q&A sessions regarding anything they want, like new promotions or new dishes your restaurant will be featuring.

Another way to put the live feature through use is to provide live footage of events your restaurant is having.

A fundraiser event could be one to show the live crowd your restaurant was able to bring in and make others want to come and participate.
Instagram Stories
A "story" is a feature that allows users to post content that is shared with followers shown at the top of your feed. The content that is posted will only be viewable for 24 hours. This will create a sense of urgency within followers to constantly visit your profile to check for daily story content, since an expiration date is placed on the content.
Stories have become one of the most important features on Instagram. Restaurants have used this feature to their advantage by posting specials, new menu items and happenings to their stories.
You can also consider the Instagram Story Ads. To run your own Instagram ad, your Instagram and Facebook accounts must be connected.Once this is done, the option to create your own ad will appear as an option on your Instagram business profile.
Thanks to algorithms, ads will appear on profiles based on their search history (Adweek). Socialbakers reveals statistics that brands are using Instagram the most for advertising and it's only becoming a more successful platform for marketing (Socialbakers).
If you haven't already tried any of these restaurant marketing ideas then it's time to jump on it. Figure out which ideas work. It wouldn't hurt to implement them for the new year.
---
See the results of a growing restaurant chain and how Kulture Konnect helped build their target audience in 3 months.