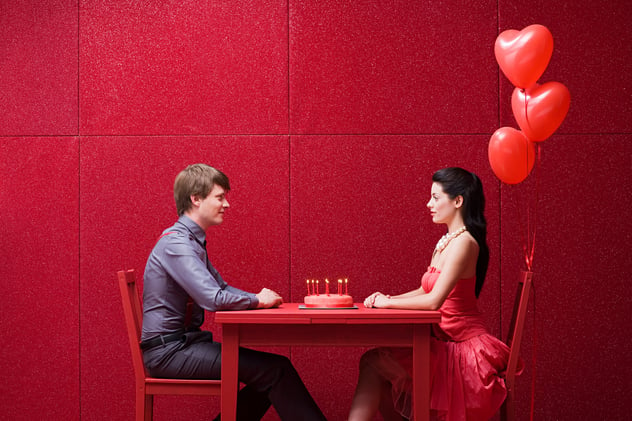 Time is running out as January comes to a close. Valentine's Day is rapidly approaching and for many restaurants across the country, it's one of the busiest holidays. According to Reserve, couples are spending an average of $286.56 on a Valentine's Day dinner in the U.S. (Talk about a sales boost).
You still have a couple weeks left to plan your V-Day promotion. If you're stuck trying to figure out what promotion to run, we have 8 restaurant promotion ideas that you'll fall in love with. You don't have a whole lot of time so, let's get right down to it.
1. Fix Your Restaurant Up With a Prix Fixe Menu
This means your menu offers a few choices at a set price. Many restaurant's offer a set three-course menu. You get a choice of an appetizer, entrée and dessert at a fixed total price. Specialty drinks are also included on the menu but additional to the meal. I wouldn't recommend including alcohol with the set price. Remember, alcohol beverages are your money maker. Since the theme is Valentine's Day, the menu should be creative and fun! Have a few drinks specifically for Valentine's Day and give them fun names such as "love potion" or the "cupid-tine".
2. Run Your Promotion for the Week
Giving customers several extra days to celebrate means you will also have several extra days of a sales boost. Since Valentine's Day falls on a Wednesday this year why not start your themed menu a bit early and have it run through until the end of the week. Don't forget to encourage customers to make reservations. This will give you an idea of how many people to expect. A holiday such as Valentine's Day can become overwhelming. You want to be properly staffed and prepared.
3. Partner Up With a Flower Shop
There is no denying that Valentine's Day is good for business and one of the busiest and lucrative days for florists around the U.S. This also means going up against your competitors so, why not beat them to the punch? Collaborating with another local business such as a flower shop could do wonders for your restaurant sales. You'll get double the reach, and both of you will benefit from the holiday sales boost.
This will also be your opportunity to use social media to promote. Make sure you are using relevant hashtags and even mention the city you are located as well as surrounding cities.
---
Save money on your restaurant marketing. Download this e-book to learn how.
---
4. Single and Ready to Mingle Bar
This concept works great for a bar or lounge. It's a perfect way to say Valentine's Day isn't only for couples. There are plenty of singles out there that would love to be a part of this holiday, believe it or not. Why not make it a special day for them and set up a singles night?
Heavily promote this event on all social media channels, your website, email blast, ask to leave flyers at other businesses around you or even consider passing out flyers at the mall. Remember, start as early as you possibly can. Usually, people will make reservations two to three weeks in advance.
5. Ladies Night/Guys Night Out
This could very well have a similar concept to a singles night. If you are a bar or lounge then this idea fits best. You'll want to create an incentive to bring in more people on this holiday. Consider inviting the ladies to get in free before 11 pm, and men pay a cover charge.
6. Hashtag Contest
It's always an excellent idea to get users involved in your campaign or promotion. Run a Valentine's Day contest on Instagram and announce the promotion or deal on all of your social media channels. One example you can use for your contest, is to encourage your followers to upload a photo of their significant other to their feed and Instagram Story. Come up with a catchy hashtag your followers can use such as #VDayChallenge and have your followers describe their partner in 5 words. Be the judge of the best post, and the winner takes their significant other to your restaurant for free on the next visit.
7. Reach Out to Social Media Influencers
Today, there are plenty of social media foodie influencers that have a large following. These influencers can help you with your exposure just by posting your promotion. Before you reach out to one make sure they are located in your area. Remember, the idea is to reach those close to you. If you are located in the Los Angeles area check out one of our past blogs that could help you with this. Click here.
8. Use Instagram and Facebook Ads
Paying for an Instagram or Facebook Ads will allow you to reach people outside of your existing followers. The whole point is to reach other prospective customers. You can still do this organically; However, the problem is it takes a significant amount of time to reach a large number of people organically. Of course, hashtags can help you reach new prospective customers, but ultimately you'll need to consider dropping a few dollars to really expand your horizons. You'll save plenty of time doing this.
---
Leave the extra work and stress to us. Contact Kulture Konnect today and get more information about our restaurant marketing and social media marketing services, (951) 479-5411.
Save money on your restaurant marketing. Download this e-book to learn how.