In order to find success in a very dynamic and competitive market, you'll need the best of the best: not only in terms of effectiveness, but also in terms of cost and time.
You'll want the most effective solution to your problems without costing you half of the yearly budget! This is true especially for those who are skeptical of the possible results that web design and marketing can bring to the table.
There are many factors to consider when choosing your web design firm. Some of the more important ones include price, reputation and suitability.
Sure, you'll probably prefer looking over at the ones that fall within budget first; but more importantly, you'll want a company that is able to accomplish what you want them to do.
Research their own website and their online portfolio. Make use of their free quote offers if they have any. While websites look and behave similar on the front, they can be built with a variety of programming languages behind the scenes. It's a good thing to make sure that the company has worked with those technologies before.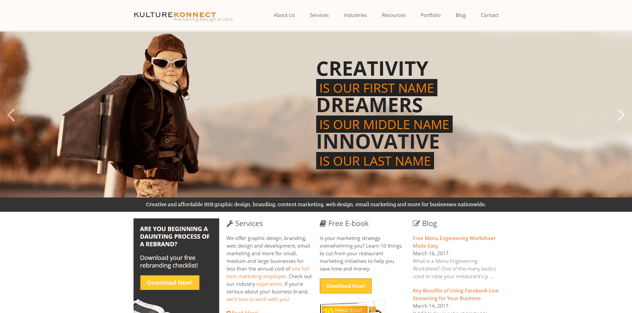 The Kulture Konnect team prides itself on being a fast and inexpensive solution able to keep up with the fast pace of the modern business world. A business that is very open to long-term relationships, they also specialize in getting deliverables on time, every time.
Their portfolio shows just how creative they are and how they've manifested over 10 years of business in the industry. They are essentially, veterans of the marketing world.
They've specialized in restaurant marketing in the past, but can't wait to share their expertise with other industries and even with the rest of the world!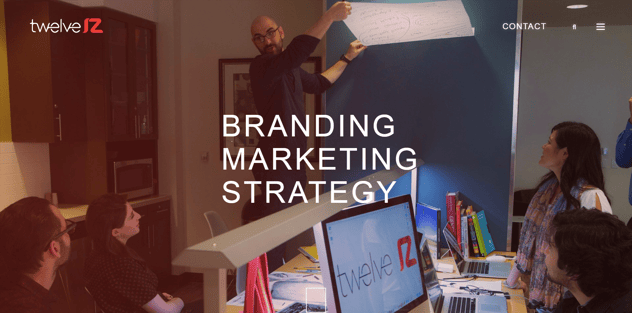 Twelve12 is a small to medium team consisting of around 12 people. They present themselves as a "fun group of people" eager to help.
The company was founded in California "from a need to make the world of e-commerce and social media marketing more accessible to everyday small business who don't necessarily speak tech.". They don't present themselves as anything too fancy or nerdy, but they're ready to put their foot down when it comes to branding, marketing and strategy.
B3NET promotes itself with great designs, robust coding and measurable outcome. They claim to deliver impact while keeping it real and will hold your company's hands from research and analysis all the way up to deployment, marketing and maintenance.
Looking at their portfolio, most of their work seems to involve e-commerce. They also have more healthcare-related designs more than others.
They're also not afraid to show some technical words around like Magento and responsive web design. They know that even if the most unsavvy of clients walk through their doors, they're gonna be able to explain and make them understand what they're all about.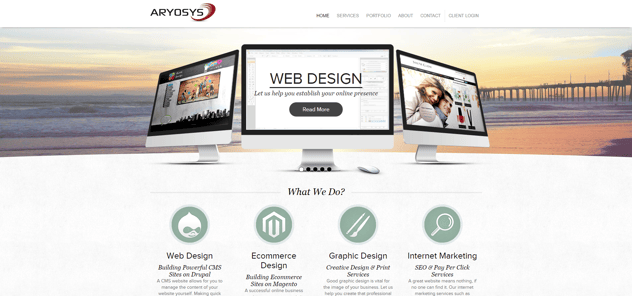 AryoSys is a marketing company based in Costa Mesa, California. They specialize in professional business web design and expert internet marketing services, aiming to provide everything needed to run a business online.
You can see from their portfolio that they have a vast amount of experience from old websites and new. They even have a client login page! They have utilized their website to serve as a kind of client portal for their existing clients, instead of just a marketing point of contact for new prospects. Brilliant!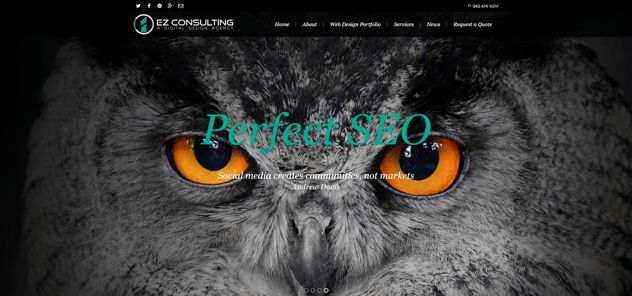 Another full-service agency but this time based in Newport Beach, California. 1EZConsulting is kind of a mouthful isn't it? Their website however, has this sort of elegant feel to it. The word "Perfect" can be seen on the front page. They boast perfect: design, marketing, content and SEO.
They claim to have been in the business since 1998, so about 20 years! This means they have a ton of experience backing up their claims and their portfolio shows! They even showcase their projects that are still in progress. This can give you a good idea of how they're faring in terms of modern design and development trends!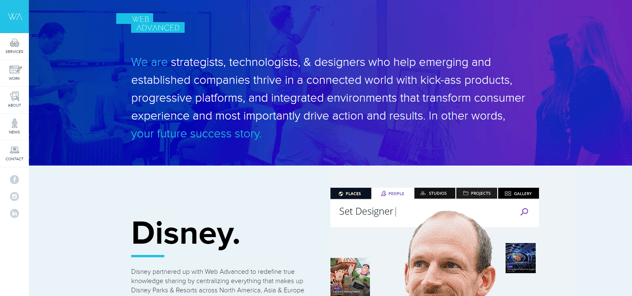 Web Advanced's website boasts a nav bar that is on the left instead of the top. It's not the greatest innovation ever, but it does give you a little insight into what they're about. Not afraid to stand out and willing to try new things, they call themselves, a hybrid agency.
Now, they're just about as young or old as the other companies on this list, but they've apparently worked with Disney! If that doesn't get you, I don't know what will! They're independently owned and mission-driven, with the goal of enabling companies to grow online without any compromises, bringing demand-generating digital experience and customer loyalty to your table.

From OC Business Websites about page, they're a "small team of Orange County web design specialists that turn ideas into websites, and websites into successful online businesses".
And from their homepage hero images, they seem to specialize in medical and legal websites, which makes them a great fit for any business in those areas. Don't let the hero images fool you, though. They are very capable and willing to work with business from all walks of life. They even have a dog that they rescued featured in their about page. This shows the fun-loving and kind nature of the people behind this company.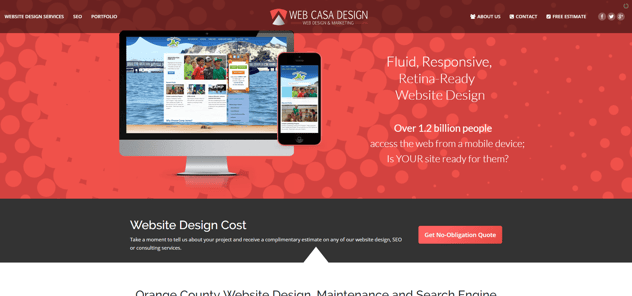 Web Casa has been in the web design industry more than their graphic design and branding (19yrs vs. 10yrs). This can be a good fit for some businesses! If you're looking to revamp your website, but don't necessarily want or need to change much of the overall look of your brand in terms of other things, then a company like Web Casa will be right up your alley.
They boast a flexible 6-day work week that they tailor to their clients' needs in order to be more accessible. They also make themselves available for on-site trainings, which is a huge plus, especially if you're a company like the one I described above.
All in all, though, they're as good as any on this list when it comes to website and graphic design.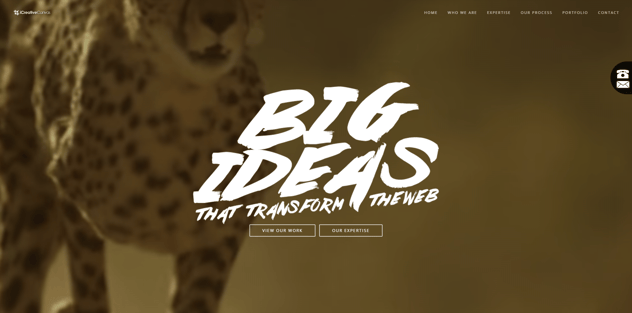 Yep, that's a cheetah in the video background and yep, they have a video background! Now the page didn't load as fast as a cheetah, but it certainly didn't feel slow by any means.
iCreativeCanvas is an "award-winning" firm based in Irvine, CA. With inexpensive rates and integrated staff of programmers, consultants, designers and other professionals, they've become one of the top custom web design firms in Orange County, and it certainly shows on Google!
They have the essentials that we've seen in other firms, but they also tout their maintenance plans, which include updates, backups, tracking; and basically security for your website and if no website should ever be insecure!
Their portfolio shows that they've also worked for non-profits. Neat!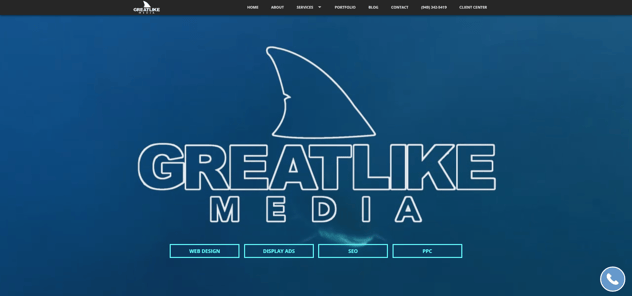 On Greatlike Media's website we are greeted with a shark. It's also a video background like the last company mentioned!
One of their highlights is that they don't use templates! Templates are basically predefined site designs that you can tweak here and there- within the confine of what the template allows you to- to tailor the design to your needs. Greatlike Media apparently handcrafts all designs from scratch. If this is true, then it means they're definitely capable!
Their portfolio doesn't have as many items as the other companies, but all of their projects look modern, which means they must constantly update this list and only showcase their most recent work.
They have a client portal as well and also has a huge FAB on their site which allows you to enter your phone number and promises you a call with one of their designers after 28 seconds, wow!
---
Conclusion
Ready to choose your web design and marketing partner? With all said and done, remember that no list or third-party entity can tell you exactly what you need. Only you can know that.
Be sure that the company you're leaning towards can keep up with your expectations, have done projects similar to yours in the past and actually show interest in helping your business grow. This will ensure that your company will be actually growing instead of spending time switching partners and choosing how to grow!
Are you seeking web design professionals? Contact us here for more information.
Find out which industries we've worked with here or visit Kulture Konnect's portfolio to get a glimpse of our work here.
Redesigning your website? Start with this 11-Step Checklist below!